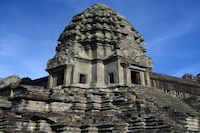 Book cheap flights to Cambodia by selecting an airport destination in Cambodia below. Compare flights to Cambodia from over a hundred airlines worldwide and book online with us today.
Cambodia is located in Southeast Asia, bordering on the Gulf of Thailand. It lies between Vietnam and Laos and has 443kms of coastline. With a tropical climate, there are few variations in temperature throughout the monsoon season from May to November and the dry season from December to April. The capital city of Cambodia is Phnom Penh, which is situated on the banks of the Mekong River. The largest city in the country, Phnom Penh is the heart of the country's economic and industrial activities and has some beautiful historical architecture and attractions.
The main airport in Cambodia is also located in Phnom Penh and it serves international flights daily. The second largest airport in the country is Siem Reap-Angkor International Airport and this deals with the largest volume of flights in and out of the country.
Recent years have seen the popularity of Cambodia as a holiday destination growing and the country now welcomes many thousands of visitors each year. The main attractions in the country include the Phnom Srey Phnom Pros, where tourists can visit a high altitude, five peak temple and two pagodas at the top of the mountain; Bah Hoi Village, a small town with a refugee camp where visitors can learn more about the friendly locals and Prek Toal and Bird Sanctuary.
Cambodia has a strong agriculture industry, with exports that include rice and tobacco. The country also works hard to produce clothing and has seen its tourism industry grow steadily.