Siem Reap Cheapest Fares
To search and book flights to Siem Reap in 2022, please enter your requirements and click the search button above.
Siem Reap prepares for annual Water Festival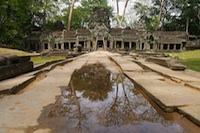 One of the most important dates in the calendar for Siem Reap, in Cambodia, is the Water Festival that takes place during October or November each year. This spectacular celebration at the end of the rainy season attracts thousands of visitors to join in the festivities, and is a great time to visit the city.
All weekend, there is a wide range of activities and celebrations on offer, and a bewildering array of fantastic sights and sounds to experience. Boat races are an integral part of the festivities, and the sight of hundreds of intricately painted vessels from each local community is nothing short of incredible to see. The festival also includes a programme of cultural performances, firework displays and other events.
This is a very popular event, and so visitors planning to attend may like to book their flights and accommodation early whilst there is still availability. Siem Reap is well served in terms of air connections, and it is possible to fly directly into the capital city from South Korea, Thailand, China, Singapore, Laos, Malaysia as well a whole range of cities in Cambodia itself.
The weekend of the annual Water Festival is the perfect time to visit the area and experience the exhilaration of a Cambodian celebration. It is also a great chance for visitors to experience everything else that this marvellous city has to offer tourists, such as the breath-taking temple of Angkor Wat and the Kampong Phluk Floating Village..