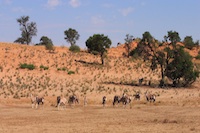 Book cheap flights to Botswana by selecting an airport destination in Botswana below. Compare flights to Botswana from over a hundred airlines worldwide and book online with us today.
Botswana is located in the southern region of Africa, to the north of South Africa. It also shares borders with Namibia and Zimbabwe. With a climate that features warm winters and hot summers, the appeal of Botswana as a holiday destination is growing year by year. Gaborone, which is the capital city, is also home to the country's main international airport. Sir Seretse Khama International Airport is capable of handling regular international flights to and from the UK and the rest of the world and is one of nine major airports in the country. Located in the southeast corner of the country, Gaborone sits on the Notwane River and is just 15kms from the South African border.
Botswana has many tourist attractions, which keep visitors returning year after year. Some of the more popular destinations include natural sites, such as the Kalahari Desert, prehistoric settlements across the Botswana countryside and the beautiful Tsodilo Hills. With a small population, Botswana features many unspoilt areas of natural beauty and this remains one of its major attractions. Game reserves and safari trips are also popular tourist activities; favourite destinations include the Central Kalahari Game Reserve; Mabhuasehue Game Reserve and the Makgadikgadi Game Reserve.
Botswana's tourist industry currently employs a large percentage of the country's workforce and it prides itself on excellent customer service and a high standard of accommodation. The country also relies heavily on diamond mining, which brings in the majority of its export earnings.