Maun Cheapest Fares
To search and book flights to Maun in 2020 and 2021, please enter your requirements and click the search button above.
Maun Offers Great Safari Adventures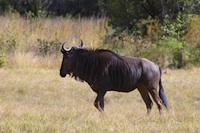 Maun has come a long way. From a destination once known for last-minute budget trips, Maun is today known as Botswana's "Safari Capital", offering several options for travellers looking for a great safari adventure experience.
One of the best ways to have a safari adventure is to go on a self-drive safari holiday. Rent a fully equipped 4X4 from the local rental company and drive out to the Moremi Game Reserve, which is a fantastic game reserve offering great views of game in a safari environment. Don't forget to visit the Okavango Delta and the parks! Renting a 4X4 to drive around the safari area is the best option for flexibility and convenience.
Safaris aren't necessarily restricted to the ground. That's right. Many providers in Maun offer sightseeing flights to the Okavango area, operators usually using small propeller planes such as Cessna 172s and Cessna 206s. Some providers even use helicopters for their scenic flights. When it comes to sightseeing flights, travellers are spoilt for choice – there are so many providers for them to choose from.
Besides just safaris, there's also things to do in Maun. Maun has lots of things to do. Travellers can visit the Maun Education Centre, one of Maun's best-kept secrets, with lots of animals, including giraffes, wildebeest and impalas, and great birding opportunities. The Nhabe Museum is a museum constructed by the British exhibiting the history of the Ngamiland district, and is definitely worth a visit as well.
Maun does have a lot to offer to travellers, especially great safari adventures. Travellers looking for a fun-packed safari adventure should consider Maun as their next destination.