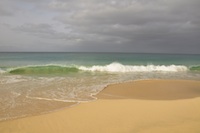 Book cheap flights to Cape Verde by selecting an airport destination in Cape Verde below. Compare flights to Cape Verde from over a hundred airlines worldwide and book online with us today.
The Cape Verde Islands are located off the coast of the West African country of Senegal and are one of a group of islands in the North Atlantic Ocean. The country has 965kms of coastline and a mild climate with warm, dry summers. The terrain in Cape Verde is rocky, steep and volcanic. The capital city, Praia, is the largest city in Cape Verde. It has a busy port that ships most of the country's exports. The main airports in Cape Verde are located at Santiago and Sal; they both handle flights to and from the UK and other international destinations.
The main tourist attractions in Cape Verde can be found in its major towns, such as Sal, Santiago, Sao Vincente and Praia. Some of the most popular activities and tourist attractions include the Pedra Lume Salt Crater, the beautiful sandy beaches and the vibrant, bustling nightlife. The latter is one reason why Cape Verde has grown in popularity with holidaymakers over recent years, while the tropical climate and unspoilt scenery are two more.
Cape Verde's economy relies heavily on its service industry, because agriculture and natural resources are not favourable due to water shortages and poor soil. As a result, much of the country's revenue comes from commerce, transport, tourism and public services. Cape Verde does produce crops of bananas, corn, beans, sweet potatoes, sugar cane, coffee and peanuts; it also exports such diverse commodities as fuel, shoes, clothing and fish.