Sao Vicente Cheapest Fares
To search and book flights to Sao Vicente in 2021 and 2022, please enter your requirements and click the search button above.
Cape Verde Music festival draws the crowds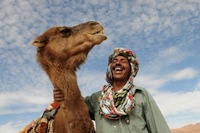 Sao Vicente is the second most populous island of Cape Verde, a group of islands situated off the coast of Western Africa. Cape Verde and Sao Vicente are becoming an increasingly popular tourist destination, offering clear blue seas and stunning beaches while still providing competitive prices. Many festivals and events run throughout the year in Sao Vicente and one of the most popular is the Baia das Gatas Music Festival.
The Sao Vicente Baia das Gatas Music Festival is held each year over what is usually the August full moon long weekend. The Portuguese named Baia das Gatas, or Bay of Gates is a large natural bay in Northeastern Sao Vicente, and it is here that this exciting and lively music festival is held.
Crowds gather on the beach and revel in the party atmosphere as many artists perform a range of local and international music. Performers from Portugal, Brazil, the UK, and United States have all taken to the stage at the festival, while thousands of spectators, both locals and tourists enjoy the event. During the day, the atmosphere is very family friendly, with activities on the beach and plenty of food and drink vendors to be found. The party continues through the night, long after artists have finished performing, with music playing as the beach is transformed into an open-air nightclub.
Baia das Gatas is one of the highlights of the year in Sao Vicente, and anyone visiting this destination during the festival should definitely try to experience the event and soak in the culture of the area.