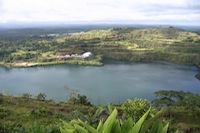 Book cheap flights to Liberia by selecting an airport destination in Liberia below. Compare flights to Liberia from over a hundred airlines worldwide and book online with us today.
Liberia is located on the west coast of Africa, bordering Sierra Leone, Guinea, and Ivory Coast. With its hot climate and coastal setting, Liberia has many beaches fit for a relaxing holiday.
Liberia's capital is Monrovia. Situated on the Atlantic Coast, Monrovia acts as the centre of Liberia's administrative, commercial, and financial sectors. It is also the home of Liberia's main international airport, which is around 60 kilometres from the city centre. There are also several ports and harbours that are used for travelling.
Thanks to its equatorial position, Liberia is hot all year round but also gets plenty of rain - not necessarily a bad thing in hot conditions. As well as Monrovia, Liberia has other attractive cities such as Harper and Robertsport, which are both known for their excellent beaches and water sports. Near another city, Greenville, is Sapo National Park, home to one of West Africa's sole primary rainforests and such beasts as hippos and elephants. Thanks to its connections with America, English is widely spoken in Liberia so worrying about learning a language should not be a concern.
Liberia is by no means a rich country and is currently in the process of rebuilding following the war, but it does still hold materials of value. For instance, its reserves of iron ore and timber, as well as livestock such as pigs and cattle, means the country is still exporting. Liberia also has the second-largest maritime registry in the world with over 3500 vessels.