Monrovia Cheapest Fares
To search and book flights to Monrovia in 2020 and 2021, please enter your requirements and click the search button above.
An African journey in an Atlantic Setting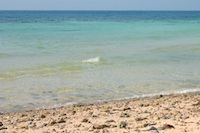 On the east coast of the African continent, washed by the warm equatorial waters of the Atlantic Ocean, lies the fascinating country of Liberia with its rich and sometimes difficult history. Its capital, Monrovia, is situated on the mouth of the St Paul River and was founded in 1822 as a haven for slaves who had been freed from the United States of America and the British West Indies.
Providence Island is just outside the main city and is a site of particular historical importance to local people, being where the first freed slaves landed. The island is host to traditional dance and music at various times of the year. Traditional African woodcarvings and batiks can be bought at the Waterside Market, and further glimpses into history can be found at the National Museum, which also houses a fine collection of Old Liberian art.
Outside the city can be found a number of beaches, the most popular being Kendeja Beach, Ellen's Beach, and Thinker's Village. Further out from these and also popular is Marshall Beach.
In the north-west of the country lies Robertsport, a coastal town that is especially attractive to surfers looking for a strong Atlantic swell. A campsite on the beach offers the opportunity to get away from it all for a time. Other places to visit include the Blue Lake, also in the north-west of the country, and the beaches and now somewhat dilapidated beach houses of Harper in the south-east.