Monrovia Cheapest Fares
To search and book flights to Monrovia in 2020 and 2021, please enter your requirements and click the search button above.
Monrovia is Making Waves Amongst Surfers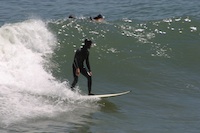 The often war-torn West Coast of Africa is not a destination to which many people would take a holiday, let alone a holiday that involved taking a surf board, but the city of Monrovia is the star of a new film that has taken the world of surfing by storm.
The new film, which was shot by film maker Nicholai Lidow, is titled 'Sliding Liberia – A story of war, peace and surfing', and was recently launched to critical acclaim and subsequently won many awards. Critics praised the film for the way it dealt with the horrors of the civil war that has gripped the country, whilst showing the resilient and adventurous spirit of the people of the region. Despite the discovery of one of the best surf breaks in the world, the stunning surfing footage is almost secondary as the film seeks to promote responsible travel in the 21st century.
The tropical destination of Monrovia is emphasised by the palm-tree-lined streets and the hot sun, and with 2,500km of largely uncharted Atlantic coastline, it is easy to see the attraction of this politically sensitive country to surfers. Although a lack of transport infrastructure and accommodation for tourists will deter all but the most resilient surfers, the rewards of empty waves will still draw visitors from all over the world.
Surfing pioneers who wish to explore the potential of Liberia can take advantage of the recently announced thre- times weekly Air France flight to James Spriggs Payne Airport, which is just three miles from downtown Monrovia.