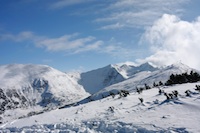 Book cheap flights to Bulgaria by selecting an airport destination in Bulgaria below. Compare flights to Bulgaria from over a hundred airlines worldwide and book online with us today.
Bulgaria has recently emerged as one of the more popular holiday destinations and its tourism industry is seeing something of a boost. Located in southeast Europe, bordering the Black Sea, between Turkey and Romania, the country enjoys 354kms of coastline and a beautiful mountainous terrain. The county's climate sees long, hot summers and colder, wetter winters. The capital city, Sofia, is home to 1.192 million residents and one of the largest cities in Europe.
The main airport in Bulgaria is located at Sofia and is situated five kilometres east of the centre of the city. The airport serves flights to and from Bulgaria, Europe and the Middle East and is one of 130 airports in the country with paved runways.
Each year, thousands of visitors choose Bulgaria as their holiday destination and with its many tourist attractions, it is easy to see why. Some of the more popular hot-spots include the city of Sofia itself; the city of Varna, affectionately regarded as the seaside capital of Bulgaria; Algia Monastery and the Valley of Kamchiya River, one of the most stunning areas of natural beauty on the Bulgarian Black Sea coast.
Bulgaria's economy relies heavily on the service sector and the tourism industry has seen more and more overseas guests arriving every year. Bulgaria exports clothing, footwear, machinery and equipment, iron and steel and fuels. With the majority of the population living in urban areas, the country's agriculture industry is fairly small.