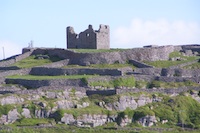 Book cheap flights to Ireland by selecting an airport destination in Ireland below. Compare flights to Ireland from over a hundred airlines worldwide and book online with us today.
Ireland is an island nation immediately to the west of the United Kingdom. It is also bordered by the Irish Sea to the east and the Atlantic Ocean to the west. It is very easily accessible to British tourists. The island consists of the Republic of Ireland, as well as Northern Ireland
Dublin is the capital, as well as the country's most populated city. The city is located in the eastern part of the country. It is the fourth most popular city in Europe among travellers. The second-largest city, Cork, is in the southern part of Ireland, along the River Lee.
There are four international airports, served by most major airlines. The two most active airports are Dublin International and Shannon, which is located in County Clare. There are also airports in Knock and Cork.
Ireland has a vast number of attractions to see. The Galway area provides visitors with plenty to celebrate the Gaelic culture. There are always a number of cultural events going on here. Killarney has a number of beautiful lakes, and is a starting point for Ring of Kerry tours. Waterford is the oldest city that is still inhabited, and has a museum that extensively covers Irish culture. If you decide to visit the capital, you will see many buildings with beautiful Georgian architecture, as well as the National Gallery of Ireland.
The country's main industries are mostly technology-related and there is also a strong emphasis on service-related jobs. Much of the economy still depends on agriculture as well. Meat, dairy products and cattle are exported in large quantities.