Donegal Cheapest Fares
To search and book flights to Donegal in 2022 and 2023, please enter your requirements and click the search button above.
Donegal is a Nature Lover's Heaven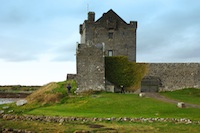 Everyone loves to have a vacation to get away from their busy, hectic lives every now and then. Unfortunately, many people can't afford to go to faraway destinations, and have to settle for vacations near home. For British travellers, one of the closest countries is Ireland. And for the traveller looking to just get away from it all or to enjoy nature, County Donegal in Ireland is a great destination to consider.
Donegal is a very beautiful place, boasting several natural attractions. Take a drive around Donegal to see all of its natural beauty. From the beautiful sights along the coast to the Derryveagh and Bluestack mountains, Donegal has enough nature to awe any traveller. Donegal is home to some of Europe's tallest sea cliffs, none other than the Slieve League cliffs, which go up to 300 metres above sea level.
Because Donegal has so much greenery, one of the main things that one can do in Donegal is to take a walking holiday around the county. Climb Donegal's mountains, notable examples being Mount Errigal, Muckish and Lough Salt Mountain. All of these mountains offer fantastic views from the top. Nature lovers will also enjoy Glenveagh National Park, which hosts many self-guided trails and walks around the park, as well as Glenveagh Castle, built in the 1800s. There are a lot of beautiful plants in the garden, the hills being covered in purple moor grass and lots of beautiful, colourful flowers.
Donegal is such a scenic place with lots of nature to explore, and is ideal for travellers looking to kick back and relax. The captivating nature of Donegal will make travellers want to return again and again.