A Special Retreat in Stunning Irish Countryside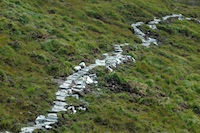 Knock is a small town in County Mayo, in the west of Ireland. The destination is probably best known for its Marian Shrine, which was visited by Pope John Paul II in 1979.
The shrine, which attracts thousands of pilgrims annually, is the place where there is said to have been an apparition of Mary, St Joseph and St John the Evangelist. Guided tours of the shrine are available and visitors are made very welcome, in the true Irish way.
The surrounding countryside is lush and beautiful and roads are relatively traffic-free. There is a peaceful, rural way of life in and around Knock, which proves attractive for visitors seeking some quiet time in lovely surroundings. Popular activities include walking, trekking, fishing and golf and there are many small towns and villages within easy driving distance. A little further to the west are to be found the magnificent golden beaches of the Atlantic coast, where sunsets seem to stretch for ever.
A visit to Knock would not be complete without sampling the world famous Guinness in one of the delightful bars in the town. Delicious local foods include Irish soda bread, potato bread and colcannon. Irish breakfasts are legendary, comprising of local bacon, sausages, mushrooms, tomatoes and various types of bread; they will keep you fuelled for most of the day.
Accommodation, in and around Knock, is available in the form of hotels, guesthouses and bed and breakfast, where a warm Irish welcome is assured.