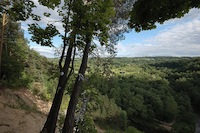 Book cheap flights to Lithuania by selecting an airport destination in Lithuania below. Compare flights to Lithuania from over a hundred airlines worldwide and book online with us today.
Lithuania is a country in Northern Europe and one of the three Baltic states. It borders with Latvia, Belarus and Poland as well as the Baltic Sea. Known for its heritage sites and architectural wonders, Lithuania offers a unique experience for tourists.
Lithuania's capital city if Vilnius, home of the country's main international airport, offering flights throughout Europe. Other international airports are in Kaunas, Palanga, and Siauliai. Vilnius is a thriving city in south-eastern Lithuania, with many museums and squares highlighting the country's rich history. The country has strong religious ties, having previously been second only to Jerusalem as a centre for teachings of the Quran, and as such there are many churches and religious artefacts around. For those who wish to relax, there are two spa towns called Birstonas and Druskininkai, which have peaceful surroundings and excellent spa facilities. Druskininkai also holds one of the largest water parks in Eastern Europe. In addition to this, there are several seaside resorts offering long beaches and beautiful sand dunes, in places such as Palanga and Nida.
Lithuania has the biggest economy among the Baltic states, thanks to its expertise in biotechnology and other new technology such as lasers, which accounts for a large percentage of the country's exports. The other large sector is manufacturing, with nearly 60,000 people employed in food processing, and a further 50,000 in furniture production. With over 2.2 million visitors every year, the tourism sector is booming as well, and is a prime reason why holidaying in Lithuania should be considered.