Sun, sea, and sculpture in Palanga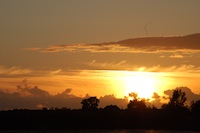 The pretty town of Palanga nestles on the north coast of the Baltic Sea in Lithuania. Hugely favoured by Lithuanians and other neighbouring countries, Palanga's popularity never seems to wane.
The town is believed to be over 5000 years old with reputed pagan origins and has evolved from a vital port, to a fishing village and finally to the bustling seaside destination it is today. The population may only be around 17,000, but between the summer months of June and September the population swells and holidaymakers are drawn to the town year after year.
The town's prosperity used to be dependent on its exports of amber, fur, and honey but today it is sustained by the huge economic injection that the tourism trade brings to Palanga. Great investment has been made into the ancillary industries of hotels, restaurants, cafes, bars and leisure complexes. EU business incentives are available, as well as more regional incentives to assist local commerce.
Despite its reputation as a light-hearted and fun resort, Palanga also has several cultural attractions that have proved popular with tourists. The Amber Museum is housed in the former mansion of a local Count, and the Sculpture Garden holds up to 28 pieces of important Eastern European art.
Palanga International Airport is a typical small regional airport but nevertheless has every necessary facility, right down to a conference room available for hire in the airport building itself.
With the unwavering popularity of Palanga gaining momentum, investors and businesses are increasingly attracted to this picturesque town and its loyal holidaymakers that return year after year to Lithuania's number one holiday destination.