Vilnius Cheapest Fares
The lowest fare found to Vilnius (VNO) was £125 with Lot Polish. The fares shown here are the lowest flight prices to Vilnius obtained in actual searches by Just The Flight customers. To search and book flights to Vilnius in 2022 and 2023, please enter your requirements and click the search button above.
Vilnius: A Holiday With A Difference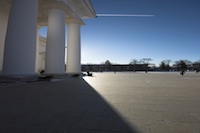 Bordered by Russia, Poland, Belarus, Serbia, Montenegro, and Latvia; Lithuania is well situated on the coast of the Baltic Sea. The city of Vilnius is inland to the south-east and is the country's capital.
Visit Gediminas Castle high about the city; the spectacular views make this a popular spot for both locals and visitors.
To understand some of Lithuania's history, you may wish to visit the Museum of Genocide Victims. This was once a KGB prison now fully open to the public and has been maintained in its original state. You can visit the cells and torture rooms and while this is not for everyone, it does go some way to enlighten the visitor of Lithuania's tumultuous past.
In Vilnius Old Town, you can visit the Amber Museum which exhibits some fine pieces of artwork, many of which date back to prehistoric times.
The 16th century Vilnuis Roman Catholic Cathedral and the catacombs are also popular attractions in the area.
While in Vilnius, why not try Cepelinaithe Lithuanian national dish of potato dumpling stuffed with meat (or curd for vegetarians) accompanied by mushrooms and sour cream? Filling and tasty!
If you are looking for some fun, Vilnius is a popular destination and has a lively nightlife with plenty of clubs and pubs to choose from. However if your visit coincides with the Autumn Equinox (occurring at the end of September) you will be treated to wonderful street carnivals, parades, and the city's famous Festival of Fire.