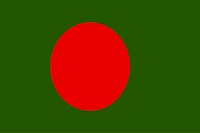 Book cheap flights to Bangladesh by selecting an airport destination in Bangladesh below. Compare flights to Bangladesh from over a hundred airlines worldwide and book online with us today.
Bangladesh lies along the borders of the Bay of Bengal and is found between Burma and India in Southern Asia. This remote country is loaded with extensive beaches, temples, wildlife, and thick forests.
Due to its relatively hilly landscape, the Sylhet and Chittagong Hills make for perfect trekking for the adventurous hiker. Another favoured way to view Bangladesh is through the country's waterways. Riverboats offer travellers a different perspective as well as provide a unique experience.
The Shah Jalal International Airport is the main airport in the country and is situated in Uttara, which is 17 kilometres (11 miles) from the capital city of Dhaka. The city of Dhaka is where visitors can indulge in the many modern facilities, museums, and shopping experiences. Some of the most unique handicrafts native to the country are found in the form of pottery and brass work, items of cotton muslin, and pink pearls.
The port city of Chittagong is the second largest city in the country and is a naturally beautiful city of coconut groves, lush forests, and blue waters. Adventure can be found close to the town of Bogra in the archaeological sites of Sherpur, Mahasthangarah, and Paharpur in the northwest part of Bangladesh.
In the southwest are several historic 15th century mosques near the town of Khulna. For visitors looking for something extra fun, check out Inani Beach, which is the world's longest and widest beach. It is south of Cox Bazar in the southeast part of the country.