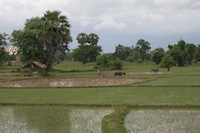 Book cheap flights to Laos by selecting an airport destination in Laos below. Compare flights to Laos from over a hundred airlines worldwide and book online with us today.
Laos is a landlocked country sandwiched between Vietnam in the east and Thailand in the west, in Southeast Asia. It has a thriving tourist industry, with nearly two million visitors per year.
The country's capital city of Vientiane is located in Central Laos near the Thailand border, with other large cities being Luang Prabang, Savannakhet and Pakse. Just two miles outside Vientiane is Wattay International Airport, one of three international airports, with the others being based in Luang Prabang and Pakse - north and south of Vientiane respectively.
Tourism is a booming industry in Laos, with many enjoying the country's laid-back nature and warm climate. Summer is from March to May, although some tourists will avoid the intense heat in favour of visits during the period between November and March, which is known as the dry season. Trekking is a popular activity, with Laos's mountainous surroundings making for the perfect challenge. The region of Luang Namtha is the main area for this, where accommodation is also available. Kayaking and tubing are also popular, with the main areas for this being Nong Khiaw and Vang Vieng. With Laos officially being Buddhist, there are many impressive architectural sites to visit, including various temples in the major cities.
Aside from tourism, agriculture is Laos's main industry, responsible for 80% of employment. The chief product of farming in Laos is rice, with 77% of farm households believed to be self-sufficient. The country also has reserves in valuable metals such as gold, copper, tin and coal.