Luang Prabang Cheapest Fares
To search and book flights to Luang Prabang in 2020 and 2021, please enter your requirements and click the search button above.
Luang Prabang architecture attracts tourists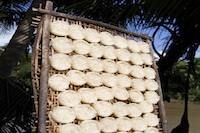 Luang Prabang is a beautiful city that is popular with visitors who want to see its traditional architecture. Although the structures in the north central city do not feature pure Laos architecture, the place is still an interesting city to go to because there are two distinct architectural traditions to be seen, making Luang Prabang one of the most distinctive places in Asia.
Flights to Luang Prabang have increased in recent years, with more and more visitors discovering a townscape that is outstandingly well preserved, giving a taste of European colonial architecture blended with traditional Laos structural design. Buildings from the 19th and 20th centuries dot the city centre making the Asian city a perfect place for sightseeing.
One thing that visitors to the city should look forward to is the alms ceremony performed by monks at dawn. These monks collect alms of rice from villagers and tourists.
After taking part in this ceremony, tourists can head to Haw Kham – the former royal residence. The palace was constructed in 1904 and features French Beaux mixed with Lao architectural design. The palace grounds host several buildings, including the Royal Barge Shelter, the Royal Conference Hall, Haw Pha Bang, housing for the staff, the kitchen, and a storage area. There is also a lotus pond and two cannons at the entrance.
Apart from the former royal residence, tourists can visit more than 30 temples in Luang Prabang. There are temples located on Phu Si but tourists should also drop by Wat Xieng Thong and Wat Mai Suwannapumaram.