Vientiane Cheapest Fares
To search and book flights to Vientiane in 2020 and 2021, please enter your requirements and click the search button above.
Vientiane celebrates the Buddhist festival, Bun That Luang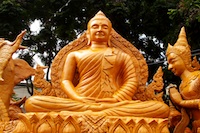 During November, Bun That Luang, the most important Theravada Buddhist festival in Vientiane, is held in Pha That Luang, the most prestigious religious monument throughout Laos.
The religious festival lasts for three days while the moon is full. Thousands of monks and Laos inhabitants come together in this destination to celebrate. After this is followed a week of festivities which last throughout each day. As part of the religious proceedings, a procession takes place from the centre of Vientiance at Wat Si Muang and makes its way to the destination of Pha That Luang. Here, candles and incense and are given as offerings and the procession circumambulates the monument three times.
Phathat Luang is seen as a very sacred site. This is because it is thought that that the stupa holds a relic of Buddha. Monks are not the only visitors to Vientiane: government leaders, state representatives and international organisations annually attend the opening ceremony of this important Buddhist festival.
The following festival comprises of a variety of musical performances including folk and popular acts. Other forms of entertainment consists of drama and a wide range of food stalls. Visitors can buy traditional goods from the trade show, like clothing, textiles, wooden carvings and handicrafts. There are also pieces from other countries on sale.
The festival ends with the public offering gifts of both money and food to the monks at dawn. The fusion of religious tradition and more contemporary forms of entertainment attracts visitors from across the globe.