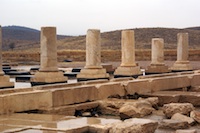 Book cheap flights to Iran by selecting an airport destination in Iran below. Compare flights to Iran from over a hundred airlines worldwide and book online with us today.
Iran is one of the largest and most-populated countries in the Middle East. Some of the countries that it shares borders with are Turkey, Afghanistan, and Pakistan. It also has coastlines along the Caspian Sea and the Persian Gulf.
Tehran is Iran's capital, and is also its biggest city in terms of population. It is located in the northern central portion of the country, within easy driving distance of the Caspian Sea. Isfahan, also in the central region, was once the capital of the country. It is the most popular city with tourists.
Most air traffic into the country arrives via Imam Khomeini International Airport, 37 kilometres from the capital. Isfahan also has an airport that receives a lot of international traffic. Most of the country's larger cities have some type of airport.
Isfahan is a good place to see beautiful architecture, as well as visit a lively bazaar. Two major Islamic centres are located in this country. One is Mashad, where the tomb of Imam Reza is located. Qom is another major theological centre. If you want to see some beautiful rose gardens, be sure to see Shiraz. This city is close to the ruins of ancient Persepolis. There are also some islands worth visiting. Kish Island is a major tourist centre with many resorts, and Qeshm Island has a number of marine forests with various bird species.
Much of the country's industry depends on the production of oil. However, in recent years, there has been a large increase in manufacturing. Cars have become a major part of the manufacturing industry. The tourism sector is also starting to see a steady increase.