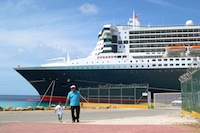 Book cheap flights to Netherlands Antilles by selecting an airport destination in Netherlands Antilles below. Compare flights to Netherlands Antilles from over a hundred airlines worldwide and book online with us today.
The Netherlands Antilles, though no longer an official country since its dissolution in October 2010, is still the term commonly used to informally describe the Caribbean region of the Kingdom of the Netherlands. It now consists of three countries – Aruba (which branched off as an independent country in 1986), Curaçao and Sint Maarten. The other islands, including the sought-after island of Bonaire, which made up the Netherlands Antilles are now classed as special municipalities of the Netherlands.
Its capital city was formerly Willemstad, which is now the capital of the country of Curaçao, with the city of Phillipsburg now the capital of Sint Maarten and Oranjestad the capital of Aruba. You may fly into any one of Flamingo International Airport, Hato International Airport or Princess Juliana International Airport before beginning your trip around these stunning tropical islands.
These glistening jewels in the Caribbean Sea offer an endless quantity of turquoise waters, impressive volcanoes, awe-inspiring cliffs and dreamlike beaches. Scuba dive off the coast of Bonaire, wander around the abandoned gold mines of Aruba, indulge yourself in the historic museums of Curaçao, or simply embrace the unique culture of Sint Maarten. Most of all, enjoy the warm hospitality of the locals, wherever you are. It is no coincidence that a line of Aruba's national anthem reads: "The greatness of our people is their great cordiality".
These islands' main industry is tourism, and it really is no wonder that they attract so many overseas visitors – in simple terms, these European colonies are a picturesque paradise; a land of dreams.