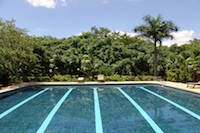 Book cheap flights to Costa Rica by selecting an airport destination in Costa Rica below. Compare flights to Costa Rica from over a hundred airlines worldwide and book online with us today.
Costa Rica, formally called the Republic of Costa Rica, or 'República de Costa Rica' is one of the most notable countries in South America. It is located next to Nicaragua, Panama and has coastlines with shores on the Pacific Ocean and the Caribbean Sea. It is one of the few nations in the world to have abolished its army and is rated highly on the Human Development Index, a measure of literacy, life expectancy, education, and life standards. It is also an environmentally friendly country that has scored well on the Environmental Performance Index. The capital of Costa Rica is San José and its official language is Spanish although the languages of Mekatelyu and Bribri are also recognised.
Costa Rica has four international airports; Daniel Oduber International Airport in Liberia, Limón International Airport in Limón, Juan Santamaría International Airport and Tobías Bolaños International Airport, both in San José. The foremost attractions of Costa Rica are its national parks, which feature active volcanoes and hot springs as well as outstanding natural beauty and stunning views. The main parks include the Arenal National Park and Corcovado National Park, although there is also the Tortuguero National Park, which is famous for its lagoons, and the Manuel Antonio National Park, which is famous for its unspoilt beaches. Many tourists are attracted to Costa Rica each year because of its scenery and unspoilt beauty.