San Jose Cheapest Fares
The lowest fare found to San Jose (SJO) was £519 with American Airlines. The fares shown here are the lowest flight prices to San Jose obtained in actual searches by Just The Flight customers. To search and book flights to San Jose in 2022 and 2023, please enter your requirements and click the search button above.
San Jose's Festivals in December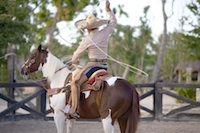 While in many places the days following Christmas Day are a quiet, peaceful time, taking a trip to the city of San José in Costa Rica during the final days of the month of December is a colourful and exciting experience as the entire city takes on an exuberant festival atmosphere.
Traditionally held on Boxing Day every year, many of Costa Rica's most talented horsemen gather with their horses for an exciting and exhilarating display of horsemanship, performed along the Paseo Colon. This festival, known as Tope Nacional de Caballos, attracts more than 3,000 horses and riders to San José from the surrounding area who come together to show off both their horses and their horsemanship.
Having started around 80 years ago, the event has evolved from being a simple gathering of cattle herders to a city-wide festival featuring parades and running and trotting events that show off what the riders and the horses can do.
The festivities continue on the evening of the 26th of December with further celebrations taking place in the form of the Fiesta de la Luz, a Spanish themed Christmas tree parade which goes through the streets of central San José. The evening ends with a spectacular fireworks display illuminating the sky over the city.
The next day, 27th December, the local people wear traditional costumes and join in a dancing parade called the Carnival Nacional which winds through the streets and is accompanied by decorated floats and live music.