Liberia Cheapest Fares
To search and book flights to Liberia in 2021 and 2022, please enter your requirements and click the search button above.
Celebration of independence is a popular event in Liberia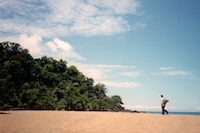 Liberia is a small city located in Guanacaste Province, in the northwest of Costa Rica. It is a popular destination for tourists, with many taking flights into the country and using Liberia as a base from which to visit nearby beaches. The nearby Rincon de la Vieja Volcano National Park is also a big draw. Throughout the year many festivals take place in Liberia, one of the biggest of these being held on Guanacaste Day.
Celebrated on 25th July each year, Guanacaste Day is a celebration of the province's independence from neighbouring Nicaragua. In 1824 the people of the province requested that it be made part of Costa Rica, rather than Nicaragua, believing that Costa Rican values and lifestyle would be more beneficial to their future. The event includes parades, horse shows, bull fighting and folk dancing, among many others. There are events for all ages, with the people of Liberia being committed to educating visitors, including children, about the history of the region. Although the day itself is the main focus of the celebrations, the week leading up to the actual event sees many parades and activities being held in the streets of Liberia and surrounding areas.
The city makes a beautiful backdrop for the celebrations. Known as the 'Ciudad Blanca' or 'White City' due to its stonewashed houses, Liberia has a very colonial feel and is an exceptionally scenic place to visit. Travellers who are in the area for Guanacaste Day are sure to enjoy the festivities in this beautiful setting.