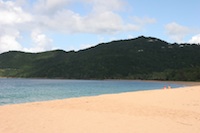 Book cheap flights to Dominican Republic by selecting an airport destination in Dominican Republic below. Compare flights to Dominican Republic from over a hundred airlines worldwide and book online with us today.
The Dominican Republic is a nation situated on Hispaniola Island, which is in turn an island within the Greater Antilles archipelago in the Caribbean. Hispaniola Island is divided into two countries, the Dominican Republic and Haiti. The Dominican Republic is the second largest Caribbean nation, covering over 18,000 square miles with over ten million citizens. The Dominican Republic was discovered by Columbus in 1492 and became the site of the first European settlement in the Americas. Santo Domingo was the first city founded and it became the capital of the Dominican Republic.
The biggest airports in the Dominican Republic are "Las Americas" airport in Santo Domingo, Puerto Plata also known as "Gregorio Luperon" or "Cibao International" in Santiago de los Caballeros. Main attractions of the Dominican Republic include its landscape, for example, it has both the highest and lowest points in the Caribbean. It is also both an urban and rural country where the characteristics of different areas change drastically. Santo Domingo is the cultural capital of the Dominican Republic and has the most vibrant nightlife that attracts tourists from international destinations. The architecture of the capital has examples of New World style that suggest how people might have lived in the past. The country is also famous for luxurious resorts, particularly in cities such as Puerto Plato, which is home to excellent shores and beautiful coastlines.