Santo Domingo Cheapest Fares
The lowest fare found to Santo Domingo (SDQ) was £628 with Delta. The fares shown here are the lowest flight prices to Santo Domingo obtained in actual searches by Just The Flight customers. To search and book flights to Santo Domingo in 2022 and 2023, please enter your requirements and click the search button above.
Party in the Dominican Republic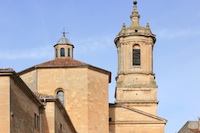 Santo Domingo is the capital city of the Dominican Republic and is the oldest city in the New World. The Dominican Republic's climate makes it a good destination at any time of year, but perhaps one of the best times to visit is in February.
Visitors can join in with the Carnaval, which is a huge extravaganza celebrating the country's Spanish, African and Caribbean heritages, with festivities culminating in a huge parade down the Malecón on the 27th of February or the nearest weekend to it. February 27th is the Dominican Republic's Independence Day and festivities begin several days before the main event, giving visitors plenty of time to get into the spirit of things.
The Carnaval is truly a once in a lifetime party with the whole of the Dominican Republic joining in the celebrations and putting on a vibrant display of their culture and infectious lust for life. The highlight of the event is the procession of over one hundred dance troupes, known locally as 'Comparsas', dancing their way down the Malecón towards the sea from early afternoon into late into the night. Many of the comparsas are dressed in traditional devil costumes with elaborate masks and put on elaborate dancing displays. As well as the devil dancers, there are floats and dancers from the rich tapestry of the Dominican Republic's many cultural origins, from merengue to Indian, from African to Caliqué, all of them infecting this vibrant destination with their collision of music, rhythm and colour.