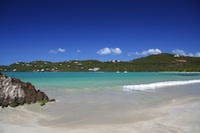 Book cheap flights to Saint Kitts and Nevis by selecting an airport destination in Saint Kitts and Nevis below. Compare flights to Saint Kitts and Nevis from over a hundred airlines worldwide and book online with us today.
The Caribbean islands of Saint Kitts and Nevis, also known as Saint Christopher and Nevis, offer beautiful beaches, fine snorkelling and some wonderful old plantation estates. Easily accessible by plane, the Robert L. Bradshaw International Airport lies to the north-east of Saint Kitts' capital of Basseterre. It is worth exploring this thriving city before escaping to the island's beautiful shores.
Saint Kitts was once home to many sugarcane plantations and today you can explore some of the abandoned estates and see the crop growing wild in the north-east of the island. These days tourism has replaced the previously abundant sugar industry, which was closed after the 2005 harvest following decades of losses.
One of the best diving spots in Saint Kitts is Sandy Point Bay which lies near Brimstone Hill with its impressive 18th century fort. It is very easy to get to the smaller island of Nevis as regular ferries run every day. The main town in Nevis is Charlestown, which is a small, mellow town with a laid-back attitude.
Although the smaller island of the two, Nevis has lots to offer with beautiful beaches and luscious rainforests. There are also some great trekking opportunities in its mountains, and guided walks are available. As both islands are relatively small, they can be leisurely explored by car, or by train in Saint Kitts. Be sure to try the islands' famous 'pepperpot' – this is a stew of vegetables and meats enjoyed by the locals.