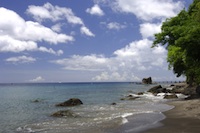 Book cheap flights to Saint Lucia by selecting an airport destination in Saint Lucia below. Compare flights to Saint Lucia from over a hundred airlines worldwide and book online with us today.
Located in the Caribbean Sea, St. Lucia is a relatively small and unspoilt island. Combining beautiful sandy beaches, mountainous terrain, and dense rainforest, St. Lucia is certainly an island for the wild at heart.
The main tourist area of St. Lucia is situated close to Castries, its capital city. Castries is also the home of one of St. Lucia's two international airports. Visitors to the island can enjoy a varied landscape, including Sulphur Springs, one of the world's only volcanoes that can be driven into. This volcano is one of St Lucia's most popular tourist attractions. Visitors can get a first hand view of the tarpits or even have a mudbath downstream from the hot springs. After the mud has dried, people often wash off in the sulphur stream or use a freshwater shower.
One of St. Lucia's largest annual celebrations is the Saint Lucian Jazz Festival held each May at a variety of venues around the island. The festival attracts musicians and fans from across the world. The annual Carnival has moved to mid-July, to avoid competition from competing local Carnivals.
Tourism is a vital part of St. Lucia's economy and its residents strive to please their visitors. St. Lucia's climate is tropical, with a rainy season between June and November and a dry season beginning in December and running until May.