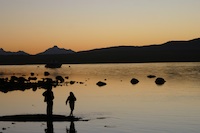 Book cheap flights to Chile by selecting an airport destination in Chile below. Compare flights to Chile from over a hundred airlines worldwide and book online with us today.
Chile is located in southern South America and borders the South Pacific Ocean, between Argentina and Peru. With 6,435kms of coastline and a mild climate, the country also shares borders with Bolivia. Chile has low coastal mountains, a fertile central valley and the infamous rugged Andes to the east. The capital, Santiago, is located in Chile's central valley and is the largest city in the country. Extensive urban development has ensured that Santiago is a hive of contemporary entertainment. It is also the location of Comodoro Arturo Merino Benítez International Airport, which is the busiest in the country.
There are many popular tourist attractions in Chile and they keep its visitors returning year after year. There is little wonder why the country's tourism industry is growing so steadily, thanks in particular to destinations such as Easter Island, with its famous large head statues; the Geysers of El Tatio; the Villarrica National Park; the Valle Nevado, where skiing is extremely popular with international visitors; Patagonia, where trekking tours are available and Santiago, with its shopping, museums and stunning architecture.
The service industry in Chile is the largest employer in the country, with just over half of the labour-force working in this sector. Exports are also very important to the country's economy, with commodities such as copper, fruit, fish products, paper and pulp, chemicals and wine finding their way to countries as diverse as China, the USA and Brazil. Given the terrain, it is perhaps not surprising that agriculture is the smallest industry in the country.