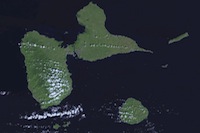 Book cheap flights to Guadeloupe by selecting an airport destination in Guadeloupe below. Compare flights to Guadeloupe from over a hundred airlines worldwide and book online with us today.
Guadeloupe is a surprisingly modern tropical paradise perfectly situated among the eastern Caribbean islands. This is one of the less well-known parts of the Caribbean but the stunning scenery, warm beaches and friendly hospitality make it a perfect holiday destination.
La Guadeloupe is an archipelago or cluster of islands including the eastern Grande-Terre with its beautiful stretches of sand, fantastic surf and delightful bars as well as western Basse-Terre, capital of Guadeloupe, with the amazing national park surrounded by an underwater reserve.
You can fly into Basse-Terre at the Guadeloupe Le Raizet airport and use local bus and taxi services to reach your destination. The roads are in good condition so car hire is a sensible choice and regular ferries operate between the islands so you experience the wide range of sports activities, relaxing beaches, and delightful bars and restaurants in all the different regions.
The Guadeloupean climate means the economy thrives on agriculture, particularly bananas, sugar cane and flowers. However, tourism is another significant industry which means there is plenty to see and do throughout the islands and you can start off your visit with a trip to the tourist information centre in Guadeloupe's largest town Pointe-à-Pitre.
Guadeloupe is a French territory and part of the EU so the local currency is the Euro and the official language is French. You will, however, often hear the locals using a French Creole language and there is an unexpected French influence in food and lifestyle which is wonderfully enhanced by the African-Indian culture prevalent on the islands.