St Barthelemy Cheapest Fares
To search and book flights to St Barthelemy in 2022 and 2023, please enter your requirements and click the search button above.
Beachgoers head to St Barthelemy for the summer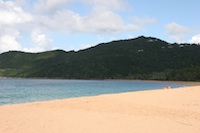 Flights to St Barthelemy, Guadalupe, during the summer season must be booked early because the place attracts many tourists at this time of the year. There are plenty of beaches to visit in St Barthelemy, including Colombier Beach – one of the most-popular isolated beaches in the area. One needs to hike to get to this isolated beach but it is definitely worth it, especially when it's off season and the beach is almost empty. The scenery along the goat trail is breathtaking but do not let the trek take your breath away, literally – hikers are advised to bring a few bottles of water each.
Visitors to the area who would like to see and experience the best diving spots in the island, should go to St Barth Plongee.
Other popular beach destinations include Grand Saline Beach, which may often be windy but it does not stop tourists from frequenting the beach because of the wonderful view. Its crystal clear waters are inviting and it also features fine, white sand.
Another wonderful beach destination popular with holidaymakers is Toiny Coast. The allure of the place includes great views of the countryside, a hiking trail and an over-sized infinity pool.
St Jean Beach is also frequented by travellers especially those who love sailing. The beach is known for its calm waters and white sand.
Shell Beach in Gustavia is the perfect spot for those who love collecting seashells. This is a famous family destination known for its beautiful, golden sand and calm waters.