Pointe-A-Pitre Cheapest Fares
To search and book flights to Pointe-A-Pitre in 2022 and 2023, please enter your requirements and click the search button above.
Take a trip to the Lesser Antilles to enjoy Point A Pitre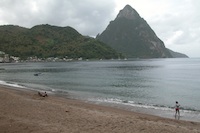 In the overseas region of France in the Lesser Antilles, is Point-a-Pitre, Guadeloupe. This area is the centre of Creole culture in the Caribbean, which has made it a very popular tourist destination. The island is most likely to be better known for its unspoilt beaches than the discovery of pineapples by Christopher Columbus in 1493.
This French-Caribbean archipelago is a holidaymaker's delight with its tropical climate and variety of activities and attractions. Check out the sugar factory Compagnie Fermiere de Grosse Montagne near the town of Basse-Terre. Do not miss the Musee du Rhum near Ste. Rose where you can select from the finest on the island. There are also several historical landmarks such as the 1643 fort, along with several colonial buildings and outdoor shopping markets.
Pointe-a-Pitre is a natural destination choice for the beach goer. The island is surrounded by exotic beaches with a variety of waters and sands making each one a little different from the other. Most beaches allow nudity so are ideal for those seeking an all over tan. More popular island beaches include Le Moule, St. Francois and Ste. Anne on Grande-Terre, as well as Grande Anse.
The island is also a natural destination choice for the festivalgoer as Point-a-Pitre hosts several each year. They include the annual Festival of Fish and Sea fishing competition, Creole Week, and the Tryskell Cup regatta. Flights to the island will take you directly to the Pointe-a-Pitre International Airport, which is approximately three kilometres (1.9 miles) from the city centre.