Air Mauritius Flights and Routes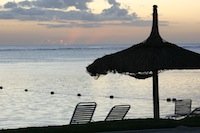 Air Mauritius fly to the main European, Asian and African destinations, approximately 30 destinations overall
Emerging markets mean the potential for new ventures. For this reason the portfolio of Air Mauritius includes flights to Shanghai in an attempt to increase tourism in the nation.
Mauritius has always been one of the most popular holiday destinations for travellers from European nations. The difficult global economy has resulted in some more caution when it comes to Europeans booking luxury holidays. Air Mauritius has added direct flights to Shanghai, China in an attempt to boost tourism to this island nation.
Mauritius is famous for its spectacular beaches and luxurious spas and has correspondingly been high on the list of favourite destinations for people around the globe. Air Mauritius's broadened portfolio is intended to increase tourism to this beautiful island by increasing access. China has recently seen an upswing in outbound tourism and with this in mind, a direct flight to Shanghai is an excellent best move for the airline. This new addition to the carrier's flight is bound to attract tourists from the area to visit this breathtaking destination. Speaking for the airline, its acting CEO Andre Viljoen went on to say that this is their first step towards one of the biggest and fastest growing economies. Air Mauritius is the island's national carrier and has flights to numerous destinations across the globe, Shanghai being one of the more recent. Other Asian destinations that Air Mauritius caters to are Malaysia, Singapore, and Hong Kong. Given that tourism is a major revenue generator for this island nation and that it contributes to 10% of its Gross domestic product further expansion makes perfect sense.