Sun Express Flights and Routes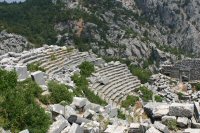 Turkish airline operating a modern Boeing jet fleet to several European cities from destinations in Turkey. The airline also offers a range of domestic flights within Turkey.
Turkish Airline, Sun Express, has launched a new 'daughter company', Sun Express Germany. The company, which began operating flights in the summer of 2011, has its base in Kelsterbach, near Frankfurt.
Sun Express Germany was launched in order to strengthen the company's existing service between the two countries and has taken over responsibility for operating the Frankfurt to Antalya route from its parent company. It has also introduced new, non-stop routes, between a number of other German and Turkish cities. The association between Sun Express and Germany has been long established; in fact Sun Express was founded in 1989 as a joint subsidiary of German carrier, Lufthansa and Turkish Airlines. Sun Express enjoys a market leading position as one of the most popular carriers between Germany and Turkey.
Sun Express has worked to ensure that the fleet and level of service provided by the new company is identical to that provided previously. Sun Express Germany is eventually expected to double the size of the group's fleet, raising the number of aircraft to 50.