Ankara Cheapest Fares
To search and book flights to Ankara in 2022 and 2023, please enter your requirements and click the search button above.
Low Cost Carrier Makes Ancient Ankara Accessible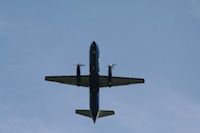 The capital of Turkey is now served by a low-cost airline that flies from London Stansted three times a week.
AnadoluJet is a cheaper subsidiary of Turkish Airlines, and the company has revived a route that was once served by both British Airways and BMI. The flights from Stansted will depart on Wednesdays, Fridays and Sundays, and provide tourists with a relatively cheap and regular service that will allow them to explore a destination that grew rapidly from a provincial capital to an international city with wide, spacious streets, and pavement cafes and restaurants that serve traditional local cuisine.
As with many destinations in the Middle East, Ankara has a history which dates back several millennia. Ancient citadels sit alongside Roman baths, and myriad museums chart the rich history of a city which is home to many of the top universities in Turkey, With the large number of universities in the rapidly expanding city, there is an eclectic nightlife to be found if visitors take the time to communicate with locals.
AnadoluJet is hoping to increase the frequency of the service over the coming months. The direct flights to Ankara take around four and a half hours to reach Esenboga airport, and as Esenboga is a hub for a number of regional airports in Turkey, it also provides convenient connections to other cities within the country, particularly those in northern and eastern Turkey, as well as links to neighbouring countries such as Northern Cyprus and Iran.