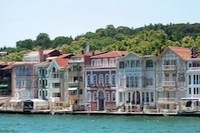 Book cheap flights to Turkey by selecting an airport destination in Turkey below. Compare flights to Turkey from over a hundred airlines worldwide and book online with us today.
The country of Turkey is situated on the Mediterranean, with the bulk of the country placed within the Anatolian region of western Asia.
The capital city of Turkey is Ankara, the second largest city in the country, after Istanbul. Ankara is what is known as the administrative centre of Turkey, due to the fact that there is a large university within its bounds and most of the inhabitants are students, civil servants, or academics.
Of the main places to visit, Istanbul is perhaps the most famous city in Turkey, as it was the former capital city to both the Byzantine and the Ottoman empires. Istanbul is the cultural and financial centre of Turkey, and was named one of Europe's Capital Cities of Culture in the 2010 awards. Another place to visit in Turkey is Antalya, which is city that is growing fast in Turkey, situated on the holiday hotspot of the Turkish Riviera.
Bodrum is a fashionable town based on the coast in Southern Aegean. This city ends up being a packed hive of activity when in season and it is a hub for both local Turkish and holidaymakers from around the world. Bodrum's main attractions are Roman ruins, clubs, a citadel, and a number of classy and rustic villages that surround the peninsula.
Turkey's main airport is Istanbul's Ataturk International Airport, which also offers national connection flights to other airports in hotspot cities such as Antalya.
Turkey's main industries are agriculture, chemicals, fishing, food processing, mining, oil refining, paper, steel, textiles, and tobacco.