Ankara Cheapest Fares
To search and book flights to Ankara in 2022 and 2023, please enter your requirements and click the search button above.
Take in Ramadan and Eid in Ankara, Turkey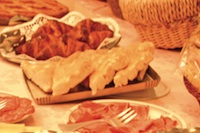 If the capital of Turkey is your destination, a trip to Ankara will bring many long lasting memories. Although not as large as Istanbul, Ankara has many of its own treasures hidden along the wide café-lined streets and old historic neighbourhoods.
The lively area of Kizilay is a great place to go for a real feel of what local living is all about. Here you will discover quaint shops, bakeries and countless traditional eateries that will have your taste buds buzzing. In the central part of town is Ulus Meydani, which is normally referred to as Ulus. This is where visitors can find museums, accommodation, low-cost restaurants, and the city's central square.
For local attractions, take a tour of the ancient citadel walls. These walls are an eclectic mixture of architectural styles that have been combined throughout the ages. The ancient Roman Baths of Ankara are more than 1,700 years old and are an essential attraction along with the Ataturk Mausoleum.
The more notable historical sites can be found in Ulus. Here you will see well-preserved mosques that include the Lion's Den Mosque and the Yeni Mosque as well as the Column of Julian. For families, the Aquapark Club Watercity and Ataturk Forest Farm Zoo will be the highlight of the day for the kids in your group.
If Turkey is your destination during the month of October, be sure to take in the country's largest and most celebrated Muslim event, which is Ramadan and Eid. This major milestone event marks the founding of Turkey.