Trabzon Cheapest Fares
To search and book flights to Trabzon in 2020 and 2021, please enter your requirements and click the search button above.
Make Trabzon your next Destination Choice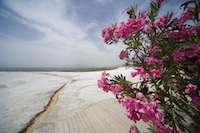 Along the shores of the Mediterranean Sea is Turkey's southern coastline where the region of Trabzon, formerly referred to as Trebizond, can be found. This is the area where many of the country's sandy beaches and prestigious resorts are located. Part of Turkey is also situated along the Aegean Sea where additional beachfront resorts fill quickly with visitors.
The country itself lies along the border of two individual continents, which benefits locals and visitors with rich influences from both the east and the west. Turkey is a natural destination choice for history enthusiasts as most of the country's past dates back thousands of years and remains visible in the surviving frescos and monuments.
Turkey is the ninth most visited country in the world. Many choose Turkey for a winter holiday destination while others come to explore the architecture and many natural wonders. Several important cities in Turkey offer travellers amazing attractions. One of these Turkish cities worth a visit is Trabzon.
With so much to see and do in Trabzon, getting started could prove to be a challenge. The Trabzon Museum is a good place for the art lover in your group while the Trabzon Ayasofya Church, which is now a museum, is an exceptional monastery erected around 1263. One of the most spectacular sights worth seeing in Trabzon is the Sumela Monastery. Carved high in the mountains during the fourth century, this massive monastery remains a special monument to the Turkish people and should not be missed.