London Heathrow (LHR) Airport Guide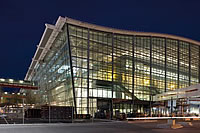 London's Heathrow Airport handles more than 67 million passengers every year and is home to five terminal buildings, including Terminal 5, which opened its doors amid much controversy last year.
As the UK's only hub airport, Heathrow is home to a wide range of facilities and passengers will be spoilt for choice when it comes to dining and shopping.
Heathrow is located around 24 kilometres to the west of London city centre and airlines currently operating from there include British Airways, KLM and Iberia.
Heathrow Airport Amenities
As an airport that handles over 67 million passengers annually, travellers will not be surprised to learn that Heathrow boasts an excellent range of facilities, including a staggering number of shops and restaurants.
Wireless internet access is available in all terminals and passengers can pay for this online with a credit card or by using vouchers and coins.
The airport's Post Office is located on the first floor of Terminal 2 and opens from Monday to Friday between 9am and 5:30pm and on Sundays from 9am to 1pm.
There are left luggage counters located in all terminals, as well as prayer rooms for all faiths.
Passengers looking to engage in a little retail therapy before their flight have plenty of stores to choose from, including Barbour, with its famous selection of wax jackets and Harrods, where travellers can pick up some last-minute gifts or enlist the help of one of the store's personal shoppers.
Those with some extra cash to splash can take a wander around some of Heathrow's numerous designer stores, which include Dior, Emporio Armani, Gucci and Burberry.
Passengers will find dozens of dining options at Heathrow Airport, from classy sit-down restaurants, to grab-and-go sandwich counters. Those looking to dine in style can head to celebrity favourite "rhubarb" which offers an innovative range of food and even serves afternoon tea - complete with miniature scones. The Caviar House and Prunier Seafood Bar is also popular and serves up tasty dishes such as Balik smoked salmon.
Meanwhile, families looking for a child-friendly eatery also have plenty of options to choose from, including Garfunkel's, which serves British and American dishes, and Carluccio's Italian restaurant in Terminal 5.
Terminals at London Heathrow
The airport has five terminals and passengers should have no trouble travelling between these. Terminals 1, 2 and 3 are located with walking distance on each other, while free trains and buses are available for those flying from Terminal 4 and 5.
Heathrow Transport Links
For those making their way into London, the Heathrow Express is a speedy and convenient option. Trains operate roughly every 15 minutes; however, with a single costing £16.50, it is one of the more expensive options.
Those with a little more time on their hands can take the London Underground, which costs £4 one-way and takes between 50 and 60 minutes to reach the city-centre.
National Express coaches are also available as well as taxis, which charge between £45 and £70 for a journey to the centre of London.
For those making their onward journey from one of London's other airports, one of the most convenient ways to travel is by National Express coach, which operates six services hourly between Heathrow and Gatwick Airport, as well as regular services to Stansted Airport.
Alternatively, passengers can travel by train via central London or take a taxi, although the latter could be a very costly option.