KLM Flights and Routes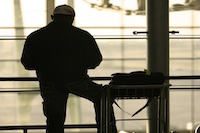 KLM fly to many destinations worldwide including Holland, Prague, New York, Cape Town, Singapore and Aruba
Self Service Bag Drop is a new development in the airline baggage world and KLM is at the forefront of the technology. The ability for passengers to label and deposit their luggage without the need to queue and wait for baggage check in staff is being used at Schiphol Airport in Amsterdam. Schiphol is the main hub and headquarters of KLM Royal Dutch Airlines and for this reason it is flying the flag for self-service technology.
In much the same way as self-service checkouts at Supermarkets have the potential to speed up shopping, so self-service bag drop is doing the same for airports. The process is estimated to take between 30 to 100 seconds, depending upon the proficiency and familiarity of the user with the system. Compared to waiting in a queue and then undertaking the process with a check in operative, this is a considerable time saving for those passengers who wish to use the new system.
The system is surprisingly easy to use, with the passenger placing their luggage onto a belt before presenting their ticket to a reader, whereupon a number of security and confirmation questions are asked. When the questions have been completed, a security label for attaching to the luggage and a baggage claim slip are printed by the machine and the luggage is then taken away for onward travel by the belt.
It is expected that the system will be easy to install in other airports by simply replacing some of the manned check-in desks with the new units. This will mean a faster and considerably more efficient system which is of benefit to both the passenger and the airline.
KLM is a member of SkyTeam