Charlottesville Cheapest Fares
To search and book flights to Charlottesville in 2020 and 2021, please enter your requirements and click the search button above.
Charlottesville Celebrates Heritage Harvest Festival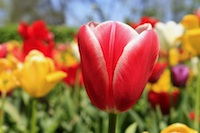 One of the most popular attractions in Charlottesville, Virginia is Monticello, the hilltop home of the third president of the United States. Each September, however, Monticello has much more to offer than just an inside glimpse into the life of the author of the Declaration of Independence, for in the middle of the month the mansion and grounds are transformed into the Heritage Harvest Festival, a celebration of gardening in all its many forms. A more enticing destination for gardeners and history buffs alike is hard to imagine.
Monticello is the ideal venue for such an event, since Thomas Jefferson himself was an avid gardener who experimented with a variety of horticultural techniques, documenting his findings for the benefit of future generations. Each year, dozens of different activities are available to those attending the festival, among them demonstrations, lectures, and hands-on workshops. Food tastings are another popular activity at the event, with visitors from around the world learning more about heirloom varieties of various edible plants.
Most events at this destination are free. In past years, free workshops have covered topics such as starting blooms from seed, planting to encourage butterflies, simple ways to make cheese, heirloom onions and garlic varieties, and herbs that promote health. For the true gardening lover, it's also possible to attend more exclusive sessions for a small fee, some of them occurring on the day prior to the festival. Premium workshop topics have included subjects such as herbal medicine amongst others.