Richmond Cheapest Fares
To search and book flights to Richmond in 2022 and 2023, please enter your requirements and click the search button above.
Travellers fly to Richmond, VA, for annual Greek Festival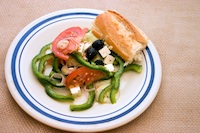 Richmond, Virginia, may be an American town but it hosts a Greek Festival complete with Greek culinary delights and dancing every year. Flights to the capital of Virginia should be booked before peak season since many tourists fly to Richmond in late spring to join in the celebration.
The Greek Festival takes place during springtime, giving the Virginia city's tourism a boost during this time of year. The festival features Greek beer and wine, with lemonade and pastries sold at stalls dotted around the venue. Attending the annual Greek Festival is not just for those who would like to shop or join in the dancing, though, because the festival also features Greek delights making it a major event for food lovers.
Appetisers available at the festival include calamari, dolmades, Greek salad, skewered shrimp, spanakopita, tiropita and yahni. For the entrée, Greek Festival attendees can choose from seasoned meat roasted to perfection served on pita or sautéed ground beef on thinly sliced eggplant topped with sour cream sauce and diced tomatoes. Dessert is also served. Guests can have a taste of Baklava or sample Greek butter cookies at real affordable prices.
Apart from the Greek delights sold at the venue, holidaymakers can also shop at the Agora for some rugs, Greek jewellery, artwork and T-shirts. Cathedral tours are also available during the festivities.