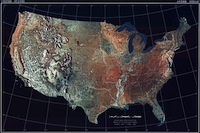 Book cheap flights to USA by selecting an airport destination in USA below. Compare flights to USA from over a hundred airlines worldwide and book online with us today.
The country of the United States of America is based in North America and is very large. With over 300 million people it has the world's third largest population after China and India.
The capital city of the USA is Washington DC, and is just one of the many large cities in the country that includes New York, Los Angeles, Chicago and Houston.
The United States of America is regarded as the world's wealthiest and most powerful nation and is famous for its variety of popular tourist destinations. Places that must be seen in the USA include Washington DC, New York City, Chicago, and Miami. The largest airports in the USA include Hartsfield Jackson Atlanta International Airport, O'Hare International Airport, and Los Angeles International Airport.
Washington DC is the capital of the USA and has a number of free public museums. Tourists will find the city new and exciting, with many attractions to visit including The White House, the US Capitol Building, and the Washington Monument. New York City is the country's largest city and is situated at the mouth of the Hudson River. It is also the main focus for media, culture, food, fashion, art, research, finance and trade, and has one of the largest and most famous skylines on earth.
Major industries in the USA include fashion and clothing, nuclear power, concrete, animal welfare, neurotechnology, shipping and recording.