Hartford Cheapest Fares
The lowest fare found to Hartford (BDL) was £503 with Aer Lingus. The fares shown here are the lowest flight prices to Hartford obtained in actual searches by Just The Flight customers. To search and book flights to Hartford in 2022, please enter your requirements and click the search button above.
Prestigious Award for Bradley International Airport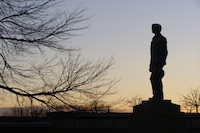 Bradley International airport has received the 2010-11 Balchen/Post Award, an international honour that was presented to the 'Snow Crews' of airports in snowbelts. Up against 60 other airports from the rest of the world, Bradley International Airport was nominated in a number of categories, but won the award, which focused on the team's dedication to maintaining the airport and keeping it open during the previous winter.
The importance of this achievement should not be underestimated, with thousands of people using the airport to fly straight in to the heart of New England. With many people also using the airport before heading on to a second destination, keeping the airport operational no matter what the weather is imperative.
Commenting on the award, Acting Commissioner Redeker said, 'This international recognition by the American Association of Airport Executives (AAAE) is a testament to the proud and dedicated employees who toil behind the scenes to make sure that Connecticut's transportation system, in this case Bradley International Airport, continues to serve the citizens of our great state in a safe, timely, and efficient manner.'
It's not just citizens who benefit, as many fly in to Bradley before heading to such events as the Annual Open House Day, which allows people to experience all that Connecticut has to offer in ways which would normally be closed to the public.
This award has once again demonstrated why Bradley International is the ideal airport to choose when deciding a holiday destination in the region.