Gainesville Cheapest Fares
To search and book flights to Gainesville in 2020 and 2021, please enter your requirements and click the search button above.
Gainesville brings in the New Year with a bang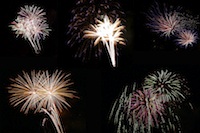 Those wishing to see the New Year in with a bang can find no better place to do so than downtown Gainesville, Florida, USA.
Known as the 'Downtown Countdown', the Gainesville celebration is a free event at the Bo Diddley Community Plaza. It showcases live bands, with the support of local restaurants and clubs. Offering people an alternative to the celebration at Times Square in New York, the Downtown Countdown in Gainesville is not an event that you will forget and it will have you talking about your experience well into the new year.
Past acts at the event have included the band Funky Blues Messiahs, which offers a mix of Creole, funk and blues, and the reggae band the Duppies.
As midnight strikes, the sky will be filled with streamers and confetti. Thousands of people will take to the streets and will cheer as music is played to bring in the New Year. First timers to the countdown will be amazed by the atmosphere – the celebrations in Gainesville are second to none. Once you have experienced bringing in the new year in Gainesville once, you will want to keep coming back.
Guests to the destination will have plenty to do in the run up to the Countdown. Gainesville is a delightful town, lying at the foot of the spectacular Blue Ridge Mountains, along the shores of Lake Lanier. Gainesville has been ranked as one of the "best places to live and play" by National Geographic Adventure, so it is well worth a visit.