Jacksonville Cheapest Fares
The lowest fare found to Jacksonville (JAX) was £811 with Air France. The fares shown here are the lowest flight prices to Jacksonville obtained in actual searches by Just The Flight customers. To search and book flights to Jacksonville in 2020 and 2021, please enter your requirements and click the search button above.
Jacksonville's Festivities Offer a Unique Experience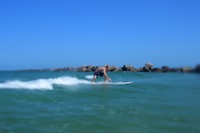 Jacksonville can brag about being the largest city by area in the Continental United States. Besides that, Jacksonville is also a vibrant city with an active cultural scene, be it arts, movies or music. With lots of festivals every year, Jacksonville is a fantastic destination for those who love culture.
Jacksonville has lots of festivals every year, examples being the Jacksonville Jazz Festival. The Jacksonville Jazz Festival showcases the achievements of big jazz groups as well as up-and-coming jazz musicians. Those who enjoy jazz music will love this festival, which falls on May every year.
Another festival which Jacksonville is known for is the Isle of Eight Flags Shrimp Festival. This festival happens on Amelia Island, located near Jacksonville. Perhaps the most exciting part of this festival is a mock pirate invasion, which never fails to scare the locals. Notable in this festival is the wet wench and a contest where the most drunken pirate that plunders the most loot wins. Like the Jazz Festival, this festival falls on May every year.
Of course, besides its many festivals, there's a lot to do in Jacksonville, one of which is to visit Jacksonville's fine arts museums. Examples of museums in Jacksonville include the Cummers Museum of Arts and Gardens, which exhibits primarily European and American paintings from a long time ago. Another notable example of a museum in Jacksonville is the Jacksonville Museum Of Contemporary Art, which exhibits amazing contemporary arts created by artists from all over the world.
With lots of festivals and museums to visit, Jacksonville is brimming with a rich and vibrant culture. Why not consider Jacksonville as your next destination?