Albany Cheapest Fares
To search and book flights to Albany in 2020 and 2021, please enter your requirements and click the search button above.
TulipFest, Albany NY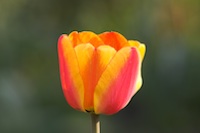 TulipFest, the annual Tulip Festival of the North American destination of Albany, New York is held every spring around May, in its historic Washington Park.
The tradition of celebrating the cities 200,000 blossoming tulips every year harks back to 1st July 1948 when Mayor Erastus Corning II declared the tulip to be the official flower of Albany, and thus sent a special request to the Queen of the Netherlands, Wilhelmina, requesting her to name a variety as Albany's tulip. She replied positively and picked the 'Orange Wonder' variety.
The first TulipFest was then held the next year on 14 May 1949. Today the opening ceremonies remain the same, such as the sweeping of State Street and the crowning of a Tulip Queen. Every year, the crowned Tulip Queen is asked to serve Albany for the forthcoming year. Nominees have to pass a competitive interview process with five finalists chosen for TulipFest, one of which will be crowned Queen with four serving as her court. The five will then spend the next year involved in volunteer projects in the city, focusing largely on education and community awareness.
In 1997 Albany was designated as New York State's 'I Love New York Spring Destination' to commemorate the 50th anniversary of the festival. A descendant variety of the Wonder Orange tulip resurfaced in honour and was renamed 'City of Albany'.
In recent years, the African-American traditional festival called Pinksterfest, the origins of which can be traced back even further to other Dutch festivities, was incorporated into the TulipFest. The Mother of the Year award has also been part of the celebrations since 1998 at the TulipFest.