Midland-Odessa Cheapest Fares
To search and book flights to Midland-Odessa in 2020 and 2021, please enter your requirements and click the search button above.
A festival that rocks the desert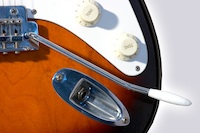 In the small city of Midland, Texas, there is a rock festival held in the desert. It is held over three days and includes a number of Christian rock bands as well as access to a skate park. Attracting crowds of more than 100,000, the Rock the Desert festival has become an annual event.
The festival has been going for more than five years and has attracted some well-known local bands. It is held at the Rock the Desert encampment, which is located to the west of the city and north of the airport. Midland is a destination famously known as a childhood home of former President George W Bush.
There is provision for camping near the site of the festival but for anyone who would prefer to stay in a hote,l there are a few hotels close by. Some of them will be offering Rock the Desert special rates and the Courtyard Marriot is sponsoring the event.
Getting to Midland from the United Kingdom will take a number of different flights as there are no direct connections. There are a few different options available when planning to travel to Midland, most of which will involve connecting flights and will include one or two domestic flights.
As a holiday destination, Midland has many attractions to offer, including museums, theatres and the Odessa Meteor Crater and museum. Though the actual crater is filled in, the museum is worth visiting.