Monterey Cheapest Fares
To search and book flights to Monterey in 2020 and 2021, please enter your requirements and click the search button above.
The Quail Motorcycle Gathering returns to Monterey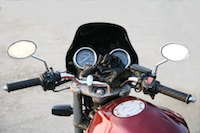 The Quail Motorcycle Gathering is a relatively new event, but does seem to be one that will be here to stay as it is becoming increasingly more popular each year it is held.
The event is started with a 100-mile journey along back roads though the Monterey Peninsula. The destination of this opening event ends with a private dinner and so there is a 50 motorcycle limit. The participation fee will include track time on the Mazda Raceway Laguna Seca, a gift bag, lunch, preview of the Bonhams and Butterfields Auction and a ticket to the Quail Motorcycle Gathering. Each rider will also be invited to show a bike as an entrant to a competition to win the much sought-after Blue Ribbons.
During the gathering, there will be a lunch provided as well live music and access to the auction staged by Bonhams and Butterfields. There will also be the chance to view products from some well-known motorcycle manufacturers, accessory producers and dealerships. The lunch will be a barbeque prepared on site at the Quail Lodge Golf Club.
During the auction there will be the chance to bid on some very rare motorcycles and a collection of memorabilia including racing posters, magazines, banners and other collectables.
Monterey is a destination that is very accessible with many airlines offering flights in to the main Monterey Peninsula Airport. Visitors wanting to stay close by can book a room at the Quail Lodge itself or there are many suitable hotels nearby.